The Halloween festival is a worldwide phenomenon, which has already crossed the United States and Canada as the main countries, being celebrated in schools and classrooms around the world.
Students love to break the routine and Halloween is a different holiday that they love to experience from first thing in the morning, even days before.
For this reason, it is important to decorate the school and organize Halloween activities and games in the school and learning center creating memorable memories with your classmates.
This holiday, which is celebrated on October 31, stands out mainly for being the night where the most terrifying and malicious characters come to life.
In this post, we are going to give you some tips and creative ideas so that you can organize different activities and proposals in class that are easy, and, most importantly, terribly fun!
1. Decorate the classroom, imagination to power
The possibilities of creativity are endless, a good idea is to personalize the desks where the boys and girls sit with details.
Try placing double-sided paper or cardboard pumpkins on top of some of them. In others, he draws large vampire fangs and an alternative option is to fill a table with cobwebs. Your students will like to see how the classroom where they take their classes every day becomes a very special place.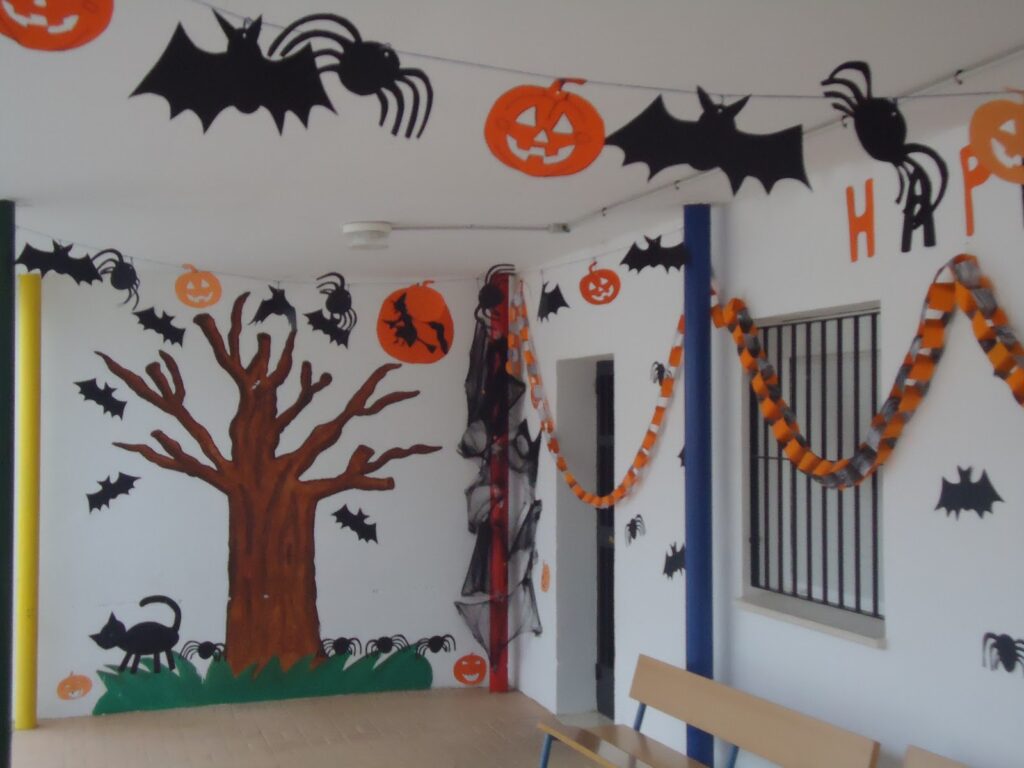 2. Terrifying photo call
To make Halloween as authentic as possible, we suggest you make a scary photocall in the school hallway or entrance. To make it, just use a black cloth and hook various elements of the theme party. Maybe the lab skeleton can join the party too!
Students and families can be invited to come dressed up and take creative and terrifying photos with the background we have created. The ideal is to propose students to propose their own ideas so that it becomes a collective idea. In this way we will have a very simple, original and economical photocall, generating with photography a memory that will last over time.
3. Halloween Balloons
A simple decoration object are balloons with original Halloween drawings. If you put them around the tables in the classroom or hang them with a thread, they will give the final touch to your staging in the school. Don't forget to tie them to doors, chairs or the ceiling of the corridors too!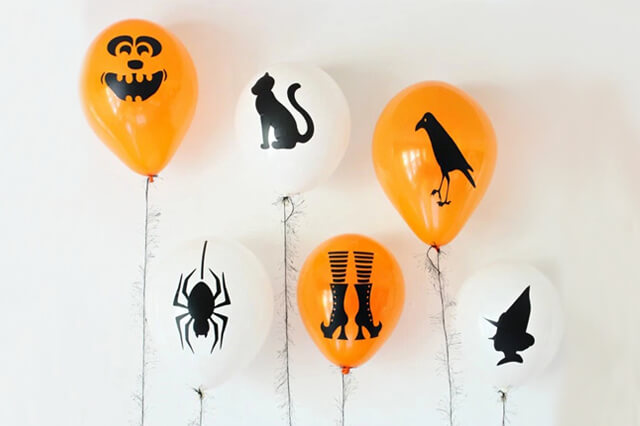 4. Customization of tables by theme
If we are to do something exceptional, we can choose to decorate tables with different themes within the theme, for example an area with coffins, pumpkins, another with skeletons, another with a zombie movie or series, etc.
You can empty the classic orange pumpkins and insert a candle inside them. It is a fun activity in which all the students can participate, working individually or in groups.
5. Creative ideas with bats
Make bats with tweezers
For this, we will only need some black tweezers of another color and we will paint them, later, using cardboard to make the wings and scissors and glue to shape and stick them. It looks great and is very quick to make!
Create flying bats
For those with great origami skills, origami flying bats can be made. We will only need colored paper, our wonderful hands and a pinch of creativity 🙂
This proposal is very well explained by @Hello Origami
Bats with toilet paper rolls
For this craft we only need toilet paper rolls, black cardboard and markers. We paint a couple of little black eyes on the toilet paper and we have it, it couldn't be easier.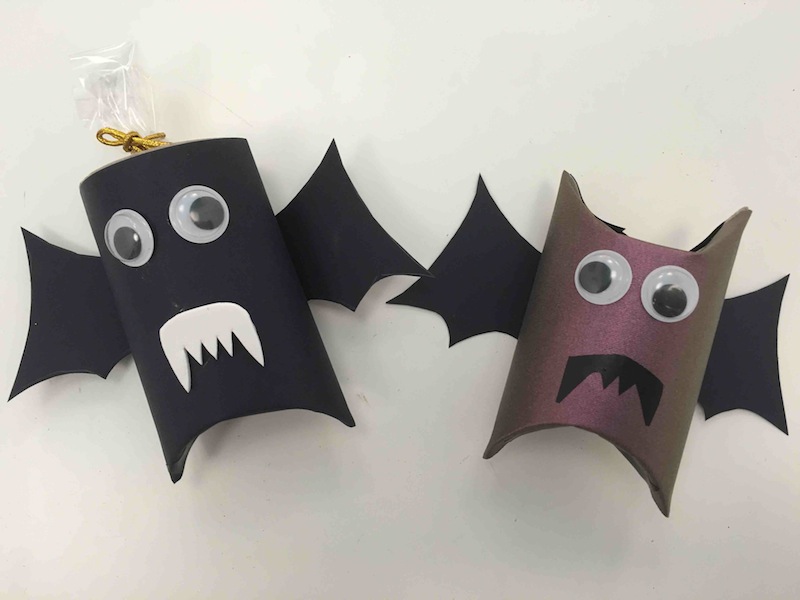 6. Draw the silhouette of the tombstone
A simple decoration is to create different silhouettes of a tombstone with a large piece of cardboard, each student can personalize the tombstone, add different texts and details.
7. Trick or treat
It is always good to try not to encourage students to eat different foods with sugar, such as sweets, however, one day is an exception.
If your school follows a strict policy on these practices, you can offer different individual pieces of fruit decorated with scary faces for the Halloween celebration.
You can put different plates where in exchange for a riddle or challenge they can get the gift. You can create challenges linked to competitive activities, surely fans of gamification will find great ways to link them.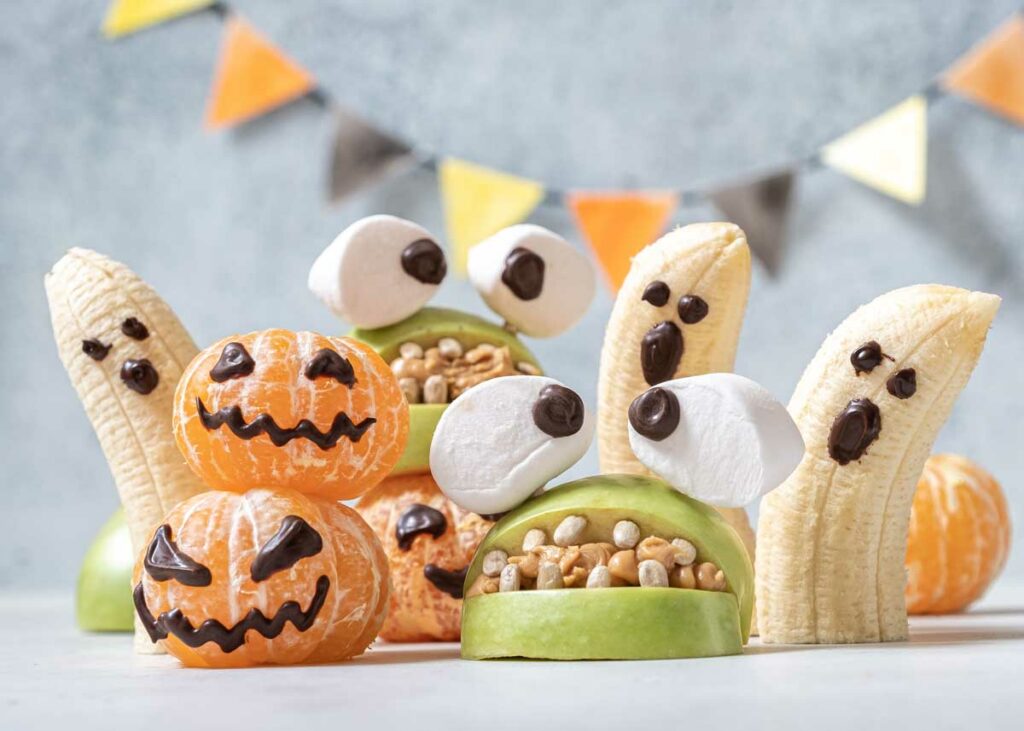 8. Surprise table
If, in spite of everything, you believe in the phrase "nobody is bitter about a sweet" and you do not want to give up a little sugar, we suggest you set up a table where children can grab some sweets before leaving class .
If strict protection measures against covid are still followed in your school or area, we recommend that you put the treats in separate recyclable cups.
9. Creepy book library
Take advantage of the books you have in the school library or look to collect horror-themed books, create a space to encourage reading.
Surely Stephen King will want to participate in this activity. However, we recommend books that are more suitable for children, such as Funny Adventures in the Land of Vampires (+6 years, Aline de Petigny, Veerle Derave), Pupi and the Halloween Witches (6-7 years, María Menéndez-Ponte, Javier Andrada), Horrifying Guests (+7 years, Diana Wynne Jones and Marion Lindsay) or The Phantom of the Opera (6-9 years, Gaston Leroux, Francesc Miralles, Purificación Hernández).
10. Horror movies
Who doesn't like movies? Organize a cineforum or discussion activity. There are multiple movies where the meaning or the plot can be discussed, some suggestions are the following: 'Corpse Bride', 'The Nightmare Before Christmas', 'The Addams Family' or 'Coco' These movies can be used this Halloween to inspire the decoration of the classroom, our top suggestion is Coco.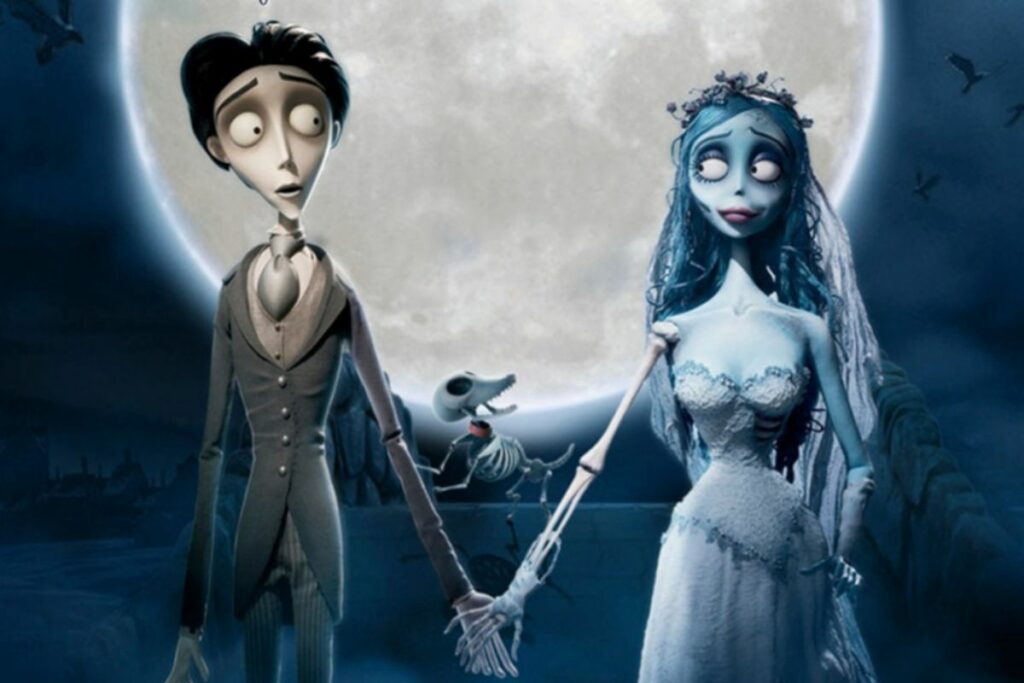 11. Decorate the classroom ceiling
Spiders (and their webs) and bats take on special prominence on Halloween; These terrifying animals are an ideal complement to decorate the classroom ceiling.
12. Terrifying Classroom Doors
Design a spectacular classroom entrance door. With orange and green colored paper and painting his eyes, nose and mouth with a black marker; in the form of a monster, covering the entire door with black garbage bags and inserting creepy details such as sharp teeth and evil eyes or a door with a mummy rolling up the door with toilet paper.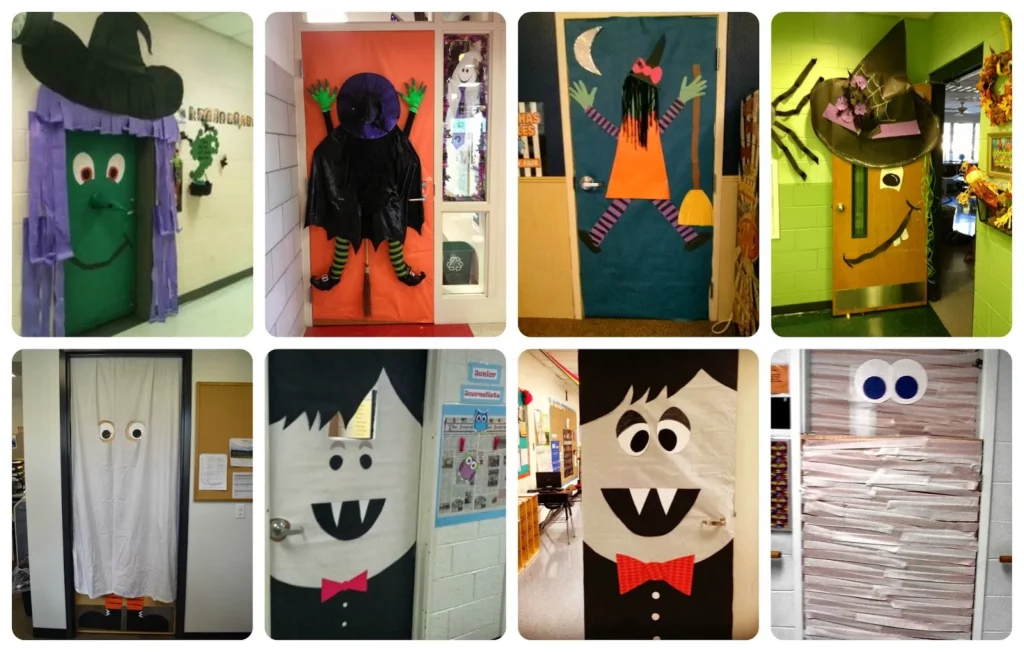 13. Mummy Costume
Speaking of mummies! This is a very simple costume but very entertaining and quick to make if you have little time. The preparation is very simple, you just need to wear black clothes, on top of which the whole body will be rolled up with toilet paper from top to bottom.
As Oswald Spengler said in "The Decline of the West" (1918), Culture and civilization, that is, the living body and the mummy of an animated being!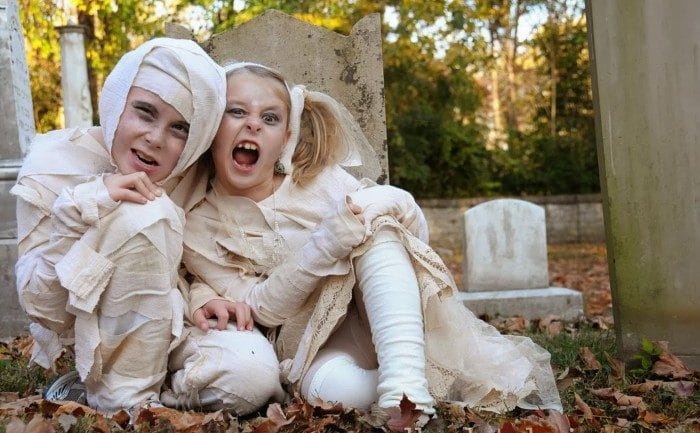 14. Zombie costume
There are many children who have followed the Walking Dead zombie series, so dressing up as a zombie is also an original solution to celebrate Halloween in class. To create a good zombie costume, we just need to use old clothes that can be torn and dirty, thus we will recreate a more realistic character.
15. Play ghost bowling
Playing and doing sports through bowling can be a good proposal. This is a fun and physical activity, for those of you who have great outdoors and great playgrounds. In this case, we will again need toilet paper rolls, which we can paint as if they were ghosts, these will have the double function of ghosts and skittles. We can look for a space where we can form the classic pyramidal shape of bowling pins and do the activity of knocking down the ghost pins with an associated score or challenge.
16. Follow Instagram accounts with super cool ideas
There are Instagram accounts of very creative super teachers to follow, we recommend a couple of them that share their experiences and proposals. We found it lovely!
17. Create a Halloween Goose Learning Station
An idea shared by @unapizcadeeducacion is to create a learning station, which arises in response to the need of students to make decisions and feel free in carrying out learning, creating the famous game of the goose Halloween version.
What do you think of these Halloween resources for your classroom?
If you have any suggestions to complement the post or an additional idea, you can leave a comment on our social networks. In this way, other teachers will be able to see the idea and thus we will contribute to share it.
Do not forget! Follow us on Facebook, Twitter, Instagram or YouTube
See you in the terrifying classrooms! 🎃🦇👻